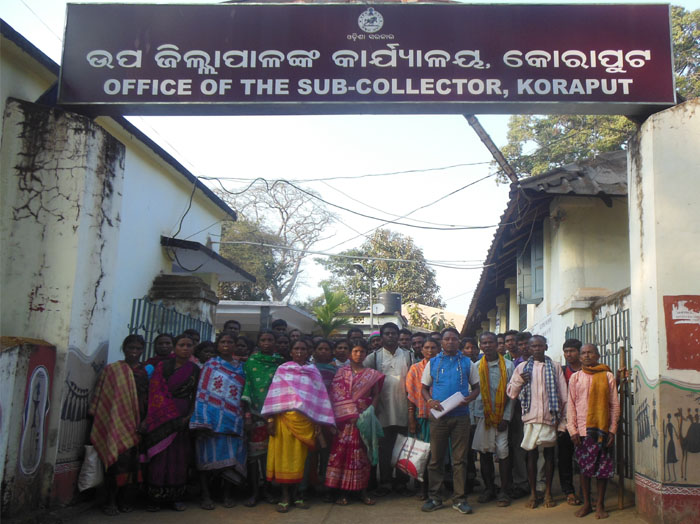 Adivasi Ekta Sasaktikaran Sammanaya (AESS), which means 'Regional Initiative for Tribal Empowerment and Solidarity', is functional in 238 villages across 12 Gram Panchayats under 8 blocks in Koraput district. A poverty analysis by ActionAid showed that there was a need to address poverty issues through building the capacities of local organizations and tribal activists. The main objective of this network is to give a space to activists to work in a rights-based campaign mode without being burdened by organizational responsibilities. Ekta is the lead partner in this network. AESS has made significant achievements on key rights:
Right to Livelihood and Food
2116 people have now received 'certificates of title' to land.
Enabled 56 old people and 22 widows to receive their pensions.
Facilitated 450 people to get work under MNREGA.
Supported 750 families to open accounts in post offices to ensure that their labour wages are paid directly.
Women's Rights
Formed a district level women's forum for the first time.
34 women participated in our meeting with the District Administration and presented issues regarding their day-to-day survival.
2 ICDS/Anganwadi centres functioning properly after intervention.
Under Forest Rights Act, 206 widows filed for land titles to forest land which had being cultivated by their husbands.
Right to Identity
'ADIVASI' has been designated as a special religion, to be mentioned during the 2011 Census after advocacy by community leaders.
10,000 leaflets were distributed to make the tribal community aware about degradation to their culture, heritage and identity.
A workshop on communalism was conducted to sensitize the community to the politics behind the communal riots and its impact.
AESS & Sponsorship
Sponsorship plays a major part in the AESS project. In the last year, 700 case histories have identified and profiles and photographs of children have been sent to supporters. Sponsorship creates a direct link between children and supporters.
Children are considered representatives of their communities and a window through which exchange and learning can take place.
Children's Rights and Right to Education
Altogether 92 children, including 21 girls, were enrolled in school.
230 children are now receiving one free daily meal in 5 schools.
8 Children's Assemblies, including 88 children, have been formed to educate children about their rights.
63 schools are now functioning properly following initiatives taken by AESS activists in association with local people.