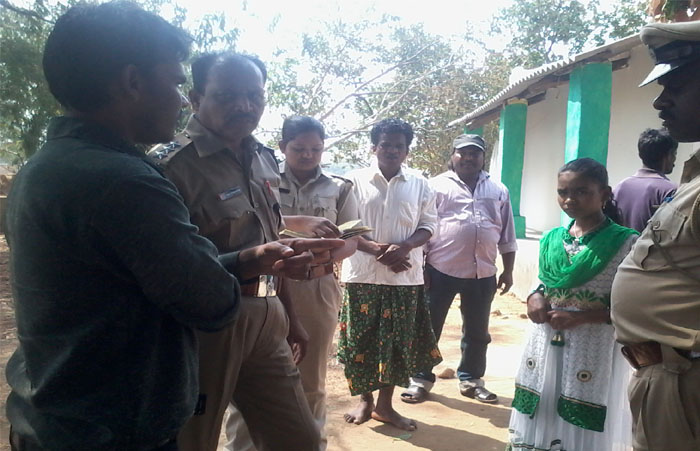 CHILDLINE Team member rescued girl whose family had planned for child marriage.
Basanti Harijan, 12 year old girl child who, lives with her mother Latita Harijan at Dabugaon village of Koraput. Her father has expired some year before. Basanti studies in class 7th at her village school. Her mother wanted to do Basanti's marriage soon. Basanti disagree with her mother's decision but she couldn't go against her mother. In the meantime, her mother finalized marriage with Trilochan Suna, 16 years old and who is also a minor. Trilochan's parents are living at Murtahandi village of Kotpad. His father Balaram Suna and mother Daimoti Suna also gave their consent about the marriage. So Lalita sent her daughter Basanti to Trilochan's village for visiting her father-in-law's house.
In that area Childline team members have been organized many awareness programs about childline and 1098 services. They had discussed various child related issues and sensitized about the child rights. When Basanti came to that village, she shared her problem with her friends. In that village Adolescent girls meeting has been organized by the childline team members so, village volunteer calling 1098 and childline for provide help to Basanti from the child marriage. After received phone call from the volunteer the childline team member intervene the case and collected all relevant information from the volunteers. Childline also disseminated the information with District Child Protection Officer, Child Development Program Officer and local police for taking further action.
On 3rd March, 2016 the childline team members along with the police protection reached Murtahandi village. They counseling with the girl and discussed with the parents of Trilocha Suna. They informed that, both the child is minor so if any one involve and support for this marriage they will be punishable under Prevention of Child Marriage Act. And police will take action against them. Finally police recorded the statement from the villagers and the parents. They finally agreed and gave written statement to the police that they will stop this marriage and do organize their marriage when they become adult. In the next morning Balaram Suna and Daimoti Suna returned Basanti at her village.
Basanti is very happy now, because she got another change to continue her study. She gave thanks to Childline who helped her during trouble. The villager also promised that, they will never allow to conducting child marriage in their village.