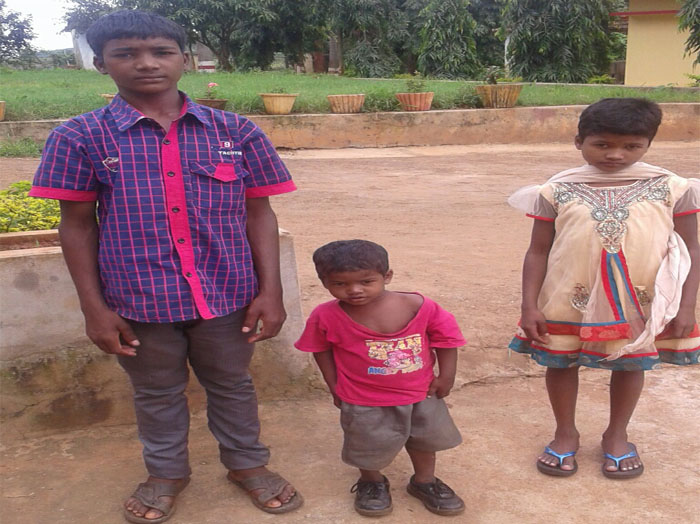 CHILDLINE Proivided Shelter facility to the orphan Children
Mati Muduli (11 years), Rina Muduli (8 years), Montu Muduli (6 year) and Rajesh Muduli (3 years) who were living with their parents At: Paliasil, GP: Hardaguda, Police Station: B. Singpur, block: Borigumma, Dist: Koraput (Odisha). Their father name is Teli Muduli and Mother is Dibi Muduli who was the farmers.
On 27th June, 2016, Teli and Dibi had gone to weekly market at Ranaspur which is adjoining to their village. It was the rainy day. In the way to return home both husband and wife crossed Cheberi River which connects their village to the outside. When they crossed the river suddenly the flow of the water increased and they couldn't able to cross the river. The water force took away and both were found dead. Villager informed to Police and police found the dead body with the support from Fire Station Department.
Patiasil is a very inter pocket of borigumma and very difficult to reach the village due to poor road communication. In the rain it is very difficult to enter the village. On 28th morning a phone call received by the Childilne Koraput Ekta about the incidence. The childilne team members responded the phone call and reached the village. The childline team members made counseling to the relative of children and villagers with the support from the village volunteer Ananta. Their relatives are also living in very miserable situation so they are also unable to take care of these children.
Finally the children were produced before Child Welfare Committee (CWC), Koraput by the Childline team members. After instruction of CWC all the children except Rajesh (3 year) were sent to Child Care Institution (CCI) "SHALAM" at Nighamaniguda of Koraput for provide better education and shelter. Rajesh handed over to the relative because he is so young and he requires need, care and protection support from the relative.
Now all three children were admitted into the school at Nighamainguda by the staff of CCI and started a new life with the new family members…..