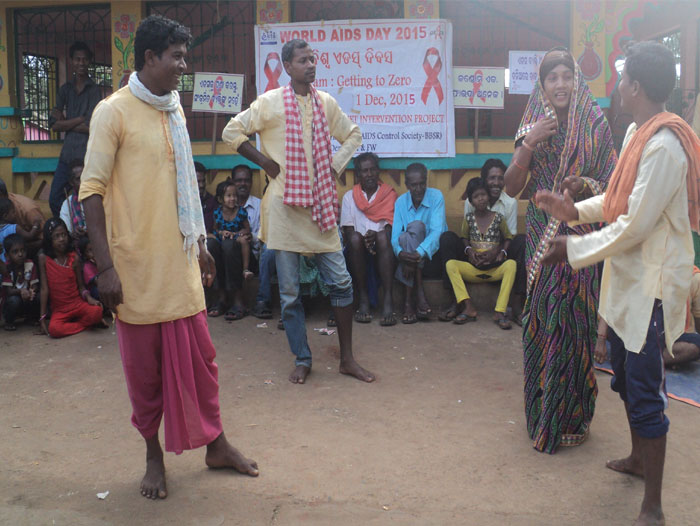 Target Intervention project was supported by Odisha State AIDS Control Society (OSACS) since 2009. Through this project, we have been covering 350 Female Sex Workers of Koraput, Sunabeda, Damonjodi, Semiliguda slums, Ralegada, Sunki National Highway by facilitating and linking of various services, facilities and disseminating relevant information.
838 FSWs registered and intervened through target intervention of HIV/AIDS
Effectively functioning 20 condom outlets in different locations
2360 HRGs linked to ICTC for testing
1348 no of referred to RMC testing
70 no of STI treatment cycle completed
Strengthening of 1 Drop In Centre (DIC) for High Risk Group (HRG) group as information and communication centre and 80-100 HRGs accessed the centre on monthly basis
08 no of Self Help Group (SHG) formed with 100 of Female Sex Workers (FSW) into it. Besides trained on different thematic issues, they have also been linked with bank for income generation activities
20 no of People Living with HIV/AIDS (PLHA) referred to ART centre
More than 1500 migrants have been supported with materials on HIV/AIDS
Components:
(1) Condom Promotion
Each peer educator distributes over 1,000 condoms every month.
These are targeted at high-risk groups.
(2) Community Mobilization
Encourage collective decision-making by community members through committees.
(3) Referrals and linkages
Refer to health services, such as Integrated Testing and Counseling Centres, and follow-up.
(4) Managing STDs
about preventing sexually transmitted diseases, as STIs increase the risk of HIV infection
Services should be accessible for High Risk groups
(5) Enabling Environment
Enable High Risk Groups to choose safe sex
Broader socio-economic change and cultural change
(6) Behavioral Change Communication
Encouraging regular screenings and safe sex.