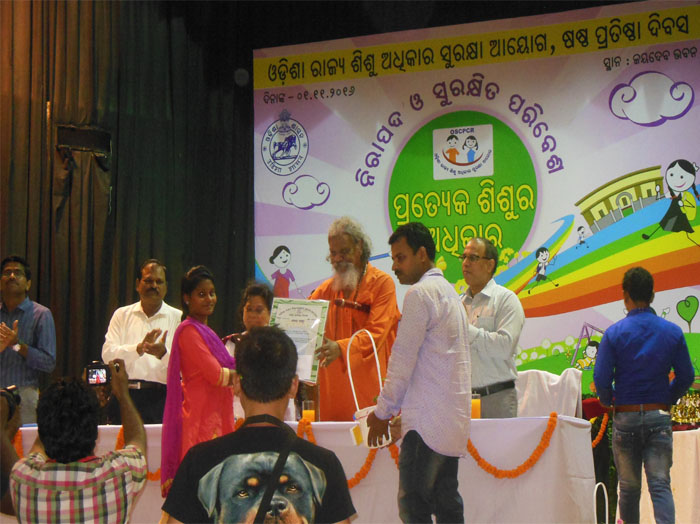 Odisa State Commission for Protection of Child Right (OSCPCR) in the eve of 6th foundation day has felicitated children for their excellent contribution on different fields on 1st November, 2016 at Jayadev Bhawan, Bhubaneswar. Mr. Prasana Patsani, hon'ble MP, Mr. Bisal Kumar Dev, Women and Child development Commissioner, Mr. Mahendra Mallik State Project Director, OPEPA, Mr. Prasanta Reddy, Director Social Welfare and ICDS were attend as a guest in the occasion.
Krushna Chandra Badnayak (Lamtaput), Chabi Khillo (Pottangi), Mukta Muduli (Nandapur), Doimati Saunta (Kundra), Kuni Jani and Tikam Saunta (Lamtaput) of Koraput district were felicitated by the guests for their contribution towards stop child marriage in their respective villages. They all were received cash prize of Rs 5000/- each, a trophy and a certificate from the invited guest. After received the prize all the children are very happy for this recognition and they are full of confidence to do more for their community towards stop child marriage. They expressed their future plan to form a district level federation where they will make awareness on child marriage and campaign for "No More Child Marriage"
Adivasi Ekta Sangathan (AES), Koraput has been working for the Tribal Rights and Tribal Identity since 2010 in 9 Gram Panchayats of 7 blocks in Koraput. In 2015 the AES started initiative for child rights especially focusing on child marriage. The Sangathen members have been doing awareness program for the children, parents and community members against child marriage. They are sensitizing how early marriage impact physically, mentally and economically in the tribal community. They also are sharing about the penal provision under Prohibition of Child Marriage Act, 2006 by the Govt.
This recognition from the Govt. will definitely help to the youths and community members to involve in the campaign for "No More Child Marriage" in the Koraput district.