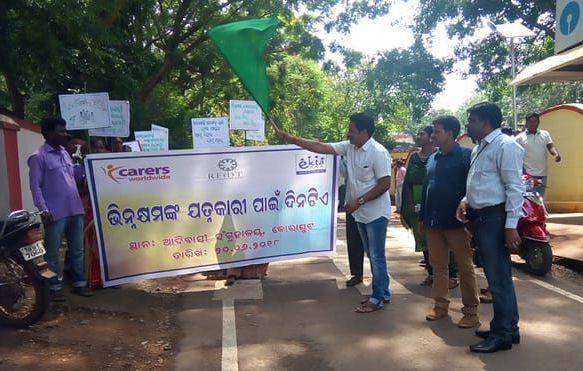 CELEBRATION OF CARERS' DAY AT KORAPUT
For the first-time ever, CARER'S DAY has been observed at Koraput town by Ekta organization on dated 20th June, 2018. Carers of Persons with Disabilities and Children with Disabilities and different stakeholders were participated on the Day at Tribal Museum, Koraput. The program organized by Ekta with the technical support of Carer Worldwide (CWW), UK and Funding support from Rangoonwala India Foundation Trust, Mumbai under VOICE OF DISABLE & THEIR CARERS (VDC) Project.
This project has been jointly implemented by Ekta, SPREAD and WORD NGOs at Koraput, Dasmantpur, Boipariguda and Laxmipur blocks of Koraput district respectively since 2017 with the technical support of Carer Worldwide. The project exclusively working for 1500 carer where, they provide support for physical and mental health development of the carer and strengthen them to raise their voice along with livelihood security with social recognition.
As we know, the CARER sacrifices their entire valuable days and times for taking care of their Child or Person with Disability. Every time, they engage to take care and provide support to them. So, through this project, it has planned to spend at least one day for the CARER and observe CARER DAY to encourage their efforts, respect their skill and involve them in cultural activities for their refreshment and entertainment. In this connection, an Awareness Rally was started from District Magistrate cum Collector office to Tribal Museum where 200 carers were participated. Municipality Chair Person of Koraput Sri Bhagaban Bahinipati, Director of CWW, UK Sri Anil Patil and Secretary of Ekta Sri Jagannath Mishra were flagged out the Awareness Rally. The rally was moved with different messages by having placards in the town by creating mass awareness among general public on the needs and importance of observing Carers Day
An awareness meeting has been organized after the rally at Tribal Museum. Chief Guest. Sri Bhagaban Bahinipati, Municipality Chairperson, Sri Anil Patil, Director of CWW, UK, Mrs. Prabhati Tripathy, District Social Welfare Officer In Charge, Ms. Soudamini Pradhan, Block Social Security Officer, Mr. Dilip Hial, District Sadar Social Security Officer, Mr. Sunil Kumar Nayak, Clinical Physiatrist, Mr. Krushna Majhi, Sarpanch of Kendar Gram Panchayat, Mr. Durga Prasad Mohanty, President of Ekta, Mr Jagannath Mishra, Secretary of Ekta, Ms. Sarita Das, Project Coordinator of Ekta were present and discussed on various aspect to strengthen, linkage and advocacy for CARERS. The Municipality Chair Person gave assurance to work closely with Ekta to make a town to disable friendly especially at Medical, District level office and bus stand. The Project staffs and Ekta workers were supported to organize this event smoothly and successfully manner. On this occasion, prizes were distributed to the Carers who were successful in participating in various games organized on this day.