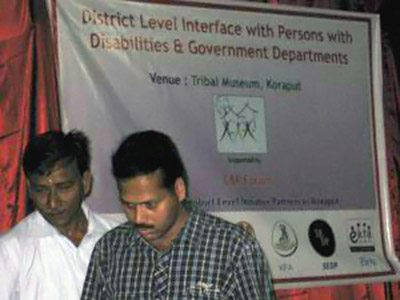 On 20th May 2011 Ekta organised a District-level interface between People with Disabilities (PWDs) and Government Departments. The event was organised in collaboration with Spread, Word, KFA, IDS, Sahara and SEDP and was hosted at the Tribal Museum, Koraput.
The event enabled disabled people to raise a number of issues. These included the facts that:
Out of 868 Children with disabilities, 378 are out of school
895 PWDs are without certificate.
1597 PWDs are without Disability Pension
928 are out of monthly PDS/BPL/APL/
2239 are not covered under IAY
1137 PWDS do not have Job cards
1% only involved in MGNREGS
The expectation of the joint organisations is that we should see:
100% certification
100% coverage of PWDs in Social security entitlements.
100% coverage of CWDs in School & quality education for CWDs
Coverage of eligible PWDs in income generation programmes
Special focus on PWDs on MGNREGS
Revenue Land rights/Forest rights to eligible PWDs
Barrier free public infrastructure in District
100% coverage of eligible PWDs under Free aid and appliances.
Special focus of PWDs under RedCross fund for treatment
Bus( private/Govt.) Pass to all PWDs
Inclusion of PWDs in different committees/forum created by Govt.( from Village to district)
The event was covered The Hindu newspaper.