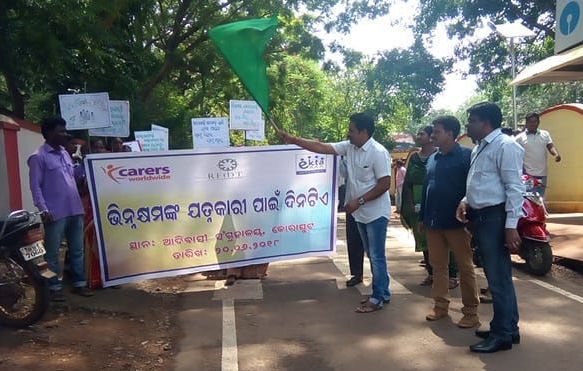 A Voice for Disabled and their Carers: Achieving recognition and inclusion of family carers of the disabled and mentally ill from Adivasi communities of Odisah. This Project has started from 1st September, 2018 in Koraput Municipality areas, 6 Gram Panchayats of Koraput block and 5 Gram Panchyats of Dasmantpur blocks of Koraput district.
The technical support for the project has provided by Carers Worldwide, UK whereas the financial support by Rangoowala Foundation India Trust. The project duration has started from September, 2017 to August 2019. Through the project it directs covers 500 unpaid family carers plus 500 individuals with a disability or mental illness for whom they care. All direct beneficiaries will be involved with the project from start to finish and indirectly touch 1500 other family members, as a result of enhanced household inclusion in the community, improved health and greater economic security.
Project Goal: Improve physical and mental health, promote social inclusion and increase household income of 500 carers
Empower groups of carers to advocate for their needs and rights
Establish the necessary links and facilities provisions to ensure the assessment, diagnosis, treatment and therapeutic needs of the 500 disabled and mentally ill individuals being cared for are met.
Specific Objectives of the project are to enable carers to;
Continue their care giving responsibilities
Address their own health and emotions needs
Find ways to financially support their family
Advocate as a group for their rights and needs and link with carers across the local, national and international.
Have available to them the services and provision necessary for the appropriate assessment and management of their disabled or mentally ill relatives' health and therapy needs.
| | |
| --- | --- |
| Type of Disability | Total |
| Cerebral Palsy | 47 |
| Mental Retardations | 142 |
| Multiple Disability | 29 |
| Locomotors | 120 |
| Visual Impairment | 25 |
| Mental Illness | 34 |
| Ephylepsy | 08 |
| Hearing Impairment | 04 |
| Leprosy | 05 |
| OH | 15 |
| Paralysis | 71 |
| TOTAL | 500 |